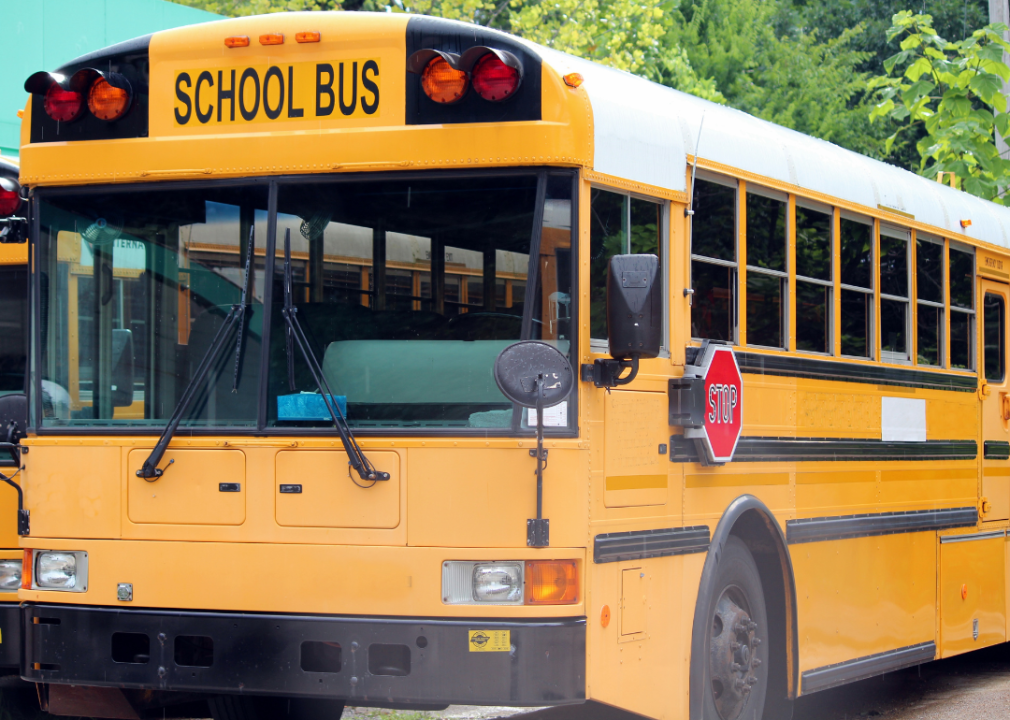 Canva
Over half of all American public school students—more than 24 million as of 2019—use school-sponsored transportation.
But transportation woes, namely the increasingly smaller ranks of school bus drivers, mean some students who can't walk to school might be made late over and over. Or they might miss days of school altogether, possibly leading to lower student test scores, increased stress, and behavioral problems, research shows.
HeyTutor looked at how transportation issues are impacting public schools and what it means for student achievement, citing HopSkipDrive's 2023 State of School Transportation report as well as recent news reports.
Fewer than 300,000 people worked as bus drivers in 2021, a number that decreased about 5% a year between 2018 and 2021, according to Data USA. The COVID-19 pandemic intensified the shortage, with school bus drivers leaving their seats because of low pay, odd hours, and more confrontations with students and parents, The New York Times reports.
The driver shortage has led many districts to resort to short-term, inconvenient solutions like combining routes: Wake County Public Schools in Raleigh, North Carolina, removed 52 bus routes in 2022. Some districts have started reimbursing parents for ride-share services like Uber and Lyft; others, like those in New York City, have assigned consecutive bus routes to drivers, resulting in chronic tardiness for many students. Kentucky's Jefferson County School District even resorted to canceling all school and extracurricular activities for a week in 2023 until a more comprehensive solution could be implemented.
These short-term solutions are not just inconvenient. They are problematic for students' learning. A 2021 Brown University study found that excessively long commute times on public school buses are linked to poorer school attendance, including chronic absenteeism. Similarly, a 2019 Johns Hopkins University study associated each additional 10 minutes in a high school student's commute with missing an extra third of a day of school.
Challenges facing efficient school transportation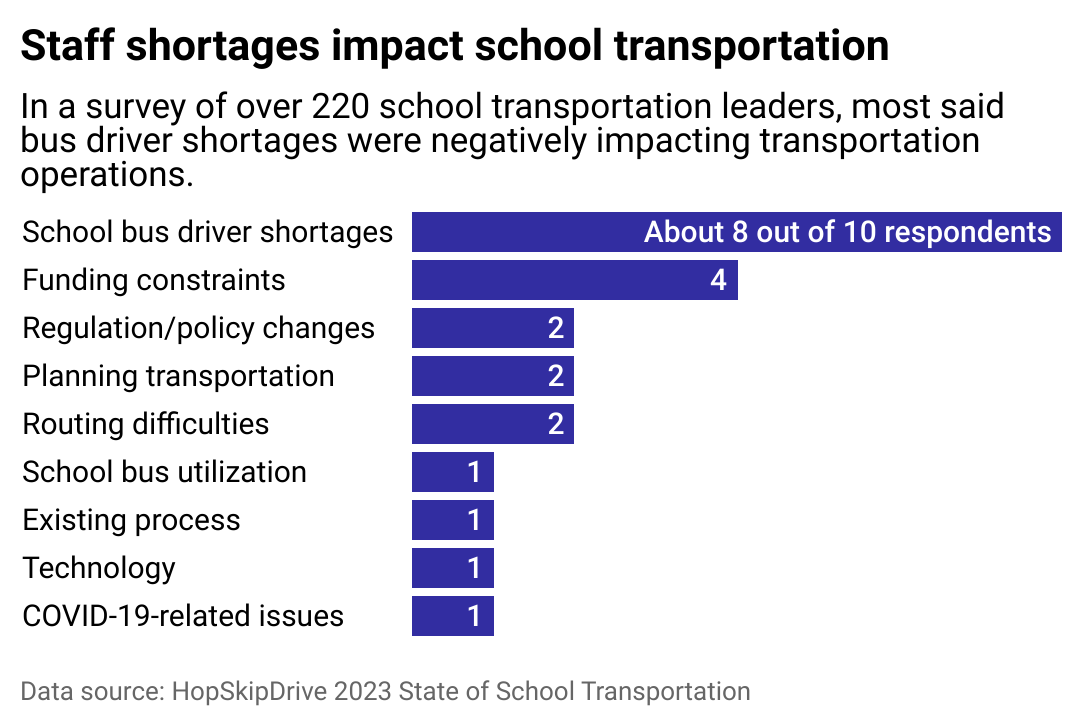 HeyTutor
According to HopSkipDrive's survey, 2 in 5 respondents reported the bus driver shortage led them to limit their transportation offerings to students; at least 9 in 10 reported impacts on their operations in general. Notably, just two years ago, this figure was 78%, reflecting a growing problem.
A significant challenge to expanding transportation services, as reported by over 60% of survey respondents, was the difficulty in attracting new bus drivers, particularly in the aftermath of a surge of early retirement during the pandemic. In fact, bus drivers aged 25-35 were more likely to leave the profession altogether as COVID-related restrictions were lifted.
One way schools are attempting to combat the shortage is by making bus driver positions full-time rather than part-time. This entails addressing aspects that make the job less appealing to prospective applicants, such as insufficient wages and lack of benefits. For example, some districts are allowing bus drivers to serve as aides in classrooms or hallways in between school bus routes.
In the meantime, more than 2 in 3 respondents (67%) reported offering supplemental transportation services to students to compensate for the existing shortage. Some districts have welcomed all kinds of staff to fill in for bus driver vacancies, including a district superintendent. Others still are considering pushing back schools' start times altogether to accommodate longer and back-to-back routes.
School districts and students are not shouldering the burden of the school bus driver shortage alone—over a third of responding parents reported that coordinating their child's transportation needs was the most stressful part of the year. Nearly a third would consider transferring their child to another school if it offered more convenient transportation services.
Considering a 2019 Johns Hopkins University study found that students reliant upon public transportation have higher rates of absenteeism, such a choice would not be unreasonable. Chronic absenteeism is not just linked to poorer academic outcomes; it can have social and emotional repercussions—such as feeling isolated and disengaged—that stem from missing school.
Story editing by Ashleigh Graf. Copy editing by Paris Close. Photo selection by Ania Antecka.
This story originally appeared on HeyTutor and was produced and distributed in partnership with Stacker Studio.