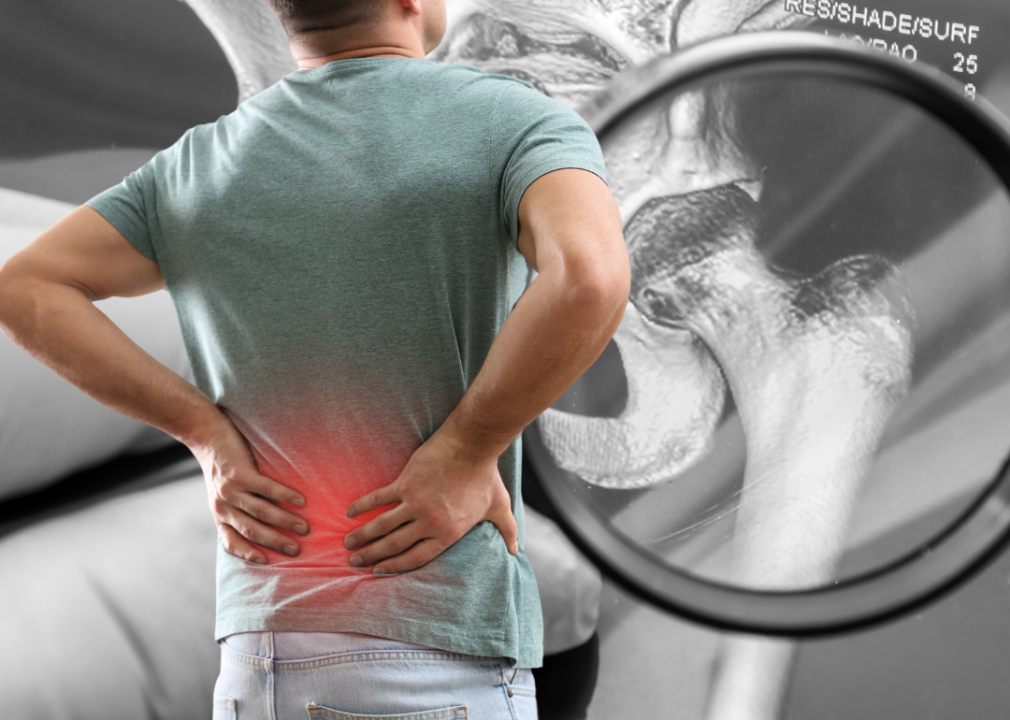 Stacker // Canva
Countless Americans endure debilitating pain regularly, more than depression, high blood pressure, or diabetes. About 20.9%, or 51.6 million adults, in the United States reported having chronic pain in 2021—and the number of chronic pain sufferers has been on the rise. 
Pain is chronic when it lasts over three months, regardless of medication or other treatments. In most cases, it begins after an injury, illness, or surgery. Nonetheless, many patients report having persistent pain with no clear cause. People with conditions such as fibromyalgia, diabetes, or arthritis, among others, may be more likely to develop chronic pain, according to the U.K.'s National Health Service. 
Patients with high-impact chronic pain—those whose pain prevents them from doing everyday activities—have "higher levels of anxiety, depression, fatigue, and cognitive difficulty," according to a National Institutes of Health research summary. Most of those patients describe the pain as "severe" and generally have worse health, requiring more care than others. 
Recent studies suggest that COVID-19 contributed to the increase in chronic pain. A 2022 article in the Journal of Clinical Medicine found that three out of five COVID-19 survivors experience chronic pain in the aftermath.
Wysa explored the latest report from the CDC, as well as other sources, on the prevalence of chronic pain among Americans.
Who chronic pain affects
Wysa
The CDC self-reported study shows a higher prevalence of chronic pain among a few specific groups: Native Americans, including Alaska Natives, people who identify as bisexual, and divorced or separated people. The CDC report also reveals chronic pain is more common in people 65 years old and above and even more common after 85, particularly in older adults with lower incomes with both Medicare and Medicaid coverage. 
The consequences of chronic and high-impact chronic pain in older people represent a clinical challenge, as life expectancy has generally climbed over the past several decades. Research from 2022 in the journal Frontiers in Human Neuroscience also found chronic pain places patients at a higher risk of dementia and cognitive impairment.
Age plus limited health coverage and chronic pain diminish the life quality of numerous older adults, who risk falling into social isolation as well as losing some of their independence.
Chronic pain and the opioid crisis
Opioid pain medications have been both helpful and abused for many years. The CDC labels opioid overdose deaths as an epidemic. Meanwhile, chronic pain is a growing public health crisis.
The most common opioid-based pain medications prescribed by doctors are hydrocodone, oxycodone, oxymorphone, morphine, codeine, and fentanyl, which are better known by their commercial brand names, such as Vicodin or Percocet. They are effective pain relievers. While the National Institutes of Health deems them as generally safe when taken as prescribed and not for a prolonged period of time, prescribing doctors still have to balance preventing opioid misuse and caring for patients with chronic pain.
In 2016, the CDC issued voluntary guidelines to physicians regarding opioids that set strict limits on types of medication, dosage, duration, and when to prescribe. While intended to reduce opioid use disorder, the guidelines resulted in pharmacies, prescribers, state laws, and insurers drastically reducing or ending opioid prescriptions. Chronic pain patients reported inadequate pain care and trouble filling prescriptions. Groups, including the National Pain Advocacy Center, pushed for the CDC to course-correct, and in 2022, the CDC updated its clinical guidelines for prescribing opioids. 
With an increasing number of Americans dealing with chronic pain, what happens now that these two crises have converged is critical.
Story editing by Jeff Inglis and Kelly Glass. Copy editing by Kristen Wegrzyn.
This story originally appeared on Wysa and was produced and distributed in partnership with Stacker Studio.