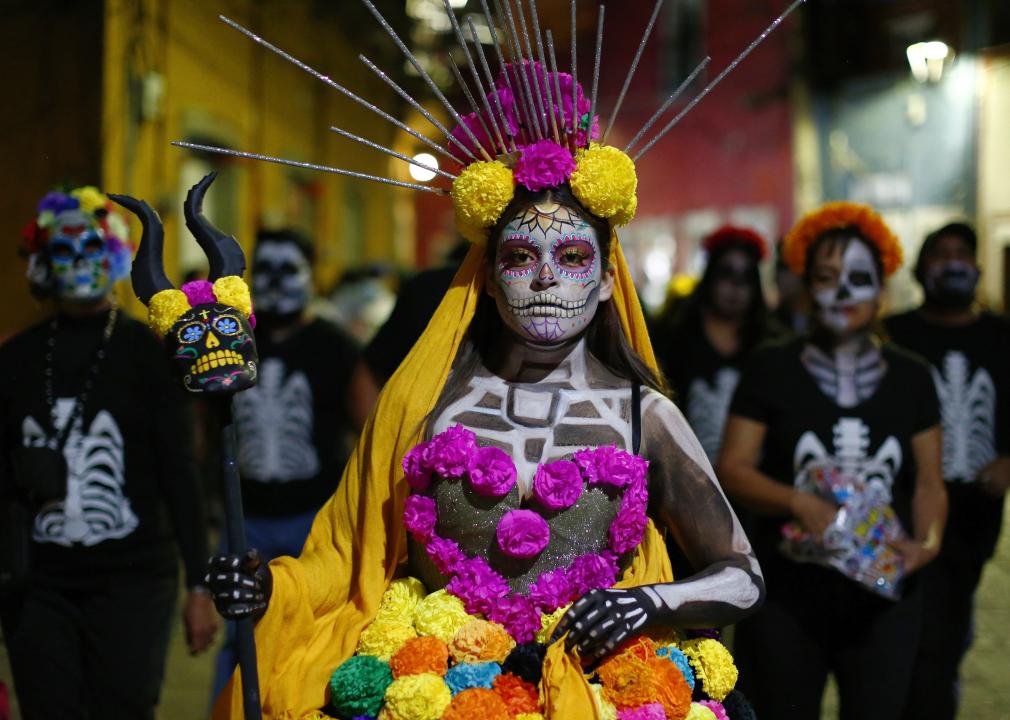 Leopoldo Smith // Getty Images
As the sun set, a procession of floats, community members, and artists traveled along a nearly 2-mile stretch of Cesar Chavez Avenue from Evergreen Cemetery—a nondenominational cemetery in Los Angeles that dates back to 1877—to Self Help Graphics & Art, a community arts center in the Boyle Heights neighborhood.
Crowds of skull-painted faces, women and men dressed in stunning outfits ranging from colorful rebozos and swirly folklorico dresses to bespoke suits with skeleton patterns—portraying the duality of life and death—marched as locals from East Los Angeles and neighbors from nearby cities alike crowded onto the sidewalks to watch the action at the annual Self Help Graphics Día de los Muertos parade, which first took place in 1973.
For 50 years, Self Help Graphics has held one of the longest-running public Día de los Muertos commemorations in the United States. Setting the trajectory in California for the formation and revival of the holiday as a way to reclaim ​​Indigenous heritage while also expressing new cultural identities.
"Day of the Dead was not only a way to commemorate the dead and commune with ancestors. It became a way of establishing identity, a vehicle for protest, and a way to publicly mourn and process the harsh experience of loss at a time when veterans were returning from Vietnam," artist Daniel González wrote in a curatorial statement produced during the 40th anniversary of Día de los Muertos celebration at Self Help Graphics.
"There was the need to be present, to be Mexican, to be Chicano, in public. There was also the need to teach Chicano people about Mexican cultural history," art history scholar J.V. Decemvirale told "Artbound" documentary filmmakers. In California, Día de los Muertos took on an important social aspect rooted in the Chicano Movement from there and became part of a broader cultural and political awakening of Mexican Americans throughout the Southwest.
Stacker traced the history of Día de los Muertos and how it reached global audiences using interviews and information from various sources.
What is Día de los Muertos? Not Halloween.
The tradition of Día de los Muertos dates back centuries (some 3,000 years ago) and is tied to Aztec and Toltec rituals rooted in Mictlan (the Aztec underworld), Mictēcacihuātl (the goddess of death who watches over the bones of the dead) and her husband Mictlāntēcutli. In contrast, Halloween has its origins in the Celtic Samhain, which signaled a time of death and rebirth. Samhain marked the end of a harvest season and the coming of winter.
Día de los Muertos is complex and multifaceted. "Ancient Mexico is incredibly diverse. It's more than just Aztecs and Mayans. It's more than just Olmec and Zapotec. There are 200-plus Indigenous peoples that have existed there." Mathew Sandoval, a professor at Barrett, The Honors College at Arizona State University, told USA Today. Depending on the region, the practices for Day of the Dead may also be different.
Today, the Mexican festival (also observed in other parts of Latin America) is a combination of Catholic and Indigenous traditions and is meant to commemorate loved ones who have passed on. Observed and celebrated on Nov. 1 and 2 (which coincides with All Saints' Day and All Souls' Day), it's believed to be a night of visitation where spirits travel back to earth to commune with family members through an altar, or ofrenda, that serves as a gateway between the worlds of the living and the dead.
These ofrendas are typically made by elders in the community but have now opened up to younger generations. On them are objects filled with symbolism such as marigolds, whose bright colors are said to attract souls, and papel picado, colorful perforated paper whose holes supposedly allow souls to pass into the living world for a visit.
Día de los Muertos gains worldwide appeal
Over the years, Día de los Muertos has garnered widespread appeal with the release of the 2015 James Bond film "Spectre," which featured a Día de los Muertos parade in Mexico City, and Pixar's 2017 animated film "Coco," which amassed $797 million worldwide. It is now recognized and celebrated by a diverse audience beyond the Latino culture.
"Movies influence what a lot of people want to dress up as on Halloween," Ana Serafin Smith, National Retail Federation spokesperson, told the Los Angeles Times. Around the time of these two film releases, major retailers began capitalizing on the tradition. Party City and Spirit Halloween started offering an array of Día de los Muertos-inspired costumes and decorations. Shelves full of this merchandise sparked many conversations about cultural appropriation.
In 2019, Mattel introduced its Día de Muertos series, which drew a lot of debate. Back in 2013, Disney tried to file a trademark to secure the phrase "Día de los Muertos," or "Day of the Dead," in preparation for a movie. Their efforts were met with major backlash. "I knew they weren't copyrighting the holiday, but I couldn't believe they would let someone in their legal department let this happen," cartoonist Lalo Alcaraz told CNN. "On the surface, it looks like Disney is trying to copyright the holiday."
These major cultural moments make it even more imperative to understand and reflect on the history and trace the origins of how this beautifully somber celebratory holiday came about.
A meaningful and solemn celebration comes in many forms
Despite Día de los Muertos iconography popping up all over mainstream American popular culture and falsely being related to Halloween, the tradition remains a beautiful celebration of both life and death dedicated to individuals or groups—adopted more recently to make artistic and political statements about military veterans, police brutality, or gun-violence fatalities—that is both healing and unifying.
Multilevel ofrendas come alive with bright orange fresh (or paper) cempasúchil flowers (marigolds native to Mexico), papel picado cut into intricate silhouettes, and burning copal (an aromatic resin used in invocations by the Aztecs). Candles light the way for the dead, while specific food like pan de muerto (bread of the dead), drinks, mementos, and photographs serve as both an offering and tell a story—connecting us to those who are being remembered. Calaveras (sugar skulls) and skeletons symbolize a return of the bones to the living world (made more popular in the prominent works of José Guadalupe Posada—La Calavera Catrina—and Frida Kahlo).
In Mexico, families reconnect with the departed by visiting the graves of loved ones in cemeteries where they're cleaned, painted, and adorned. Some regions, however, also have specific ways they celebrate. In San Andrés Mixquic, about 1.5 hours south of Mexico City, the town dims the lights in the cemetery, leaving only the candles flickering over the graves as loved ones surround the site in a vigil called La Alumbrada (the illumination). In Pomuch, Campeche, residents wash the bones of their deceased at the gravesite. In Mérida, families prepare intricate traditional dishes for their ancestors. Celebrated in a multitude of ways, this tradition was recognized in 2003 globally, when the festivity was proclaimed in UNESCO's Representative List of the Intangible Cultural Heritage of Humanity.
As more of the world continues to be exposed to the traditions of Día de los Muertos, there also comes a heavy responsibility. "If you're going to appropriate or if you're going to borrow … you do that in a manner where you're respectful and try to understand the tradition," Yreina D. Cervántez, artist, activist, and professor, told the filmmakers of "Artbound." "It's more than painting your face."
Story editing by Carren Jao. Copy editing by Tim Bruns.